Top 10 Plants - Cornish Coastal Gardens
As professional Landscapers and plant growers, we like to keep up to date with planting trends here in Cornwall and throughout the United Kingdom. With this in mind, we have put together a top of the pots! top 10 plants you will find in Cornish Coastal Gardens.
One thing is for sure, "Gardening will be huge this year", 2021 will see new gardeners sprouting up all over the place. With the beginning of the lockdown in March 2020, last year saw droves of aspiring and established gardeners alike tending to their gardens. The sun was out, skies were blue and empty, no airplanes in sight, just the beautiful sound of birds chirping and nature returning to a more gentle pace. For many, it has been a time to slow down, step back and take stock of what really matters in our lives. For the lucky ones that meant spending time in their gardens, local parks and generally enjoying the outdoors where possible. So with that in mind, here are our Top 10 plants that will be gracing many gardens in Cornwall this year.
No 1 - Verbena Bonariensis
Tightly packed clusters of lilac-purple flowers on tall, stiff, branching stems from June to September. This stylish perennial has been enjoying a resurgence of interest in recent years. Perfect for a sheltered, sunny, well-drained spot, its open, transparent shape means that it can easily be used at the front or middle of the border despite its height.
No 2 - Nepeta
'Six Hills Giant' is a blowsy cloud of tiny silver leaves and deep blue flowers in late spring and summer, often flowering again later in the summer and into autumn. Plants have to work hard to get on my list! Commonly known as catmint, the smell of this perennial is soft but pungent and it works well as both a path-edge or gap-filler.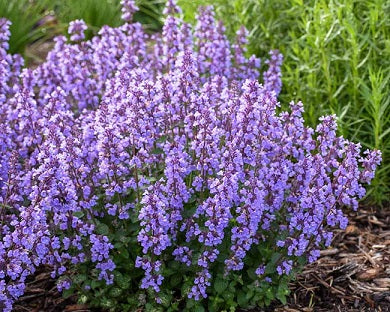 TIP:
Position: full sun or partial shade
Soil: moist, well-drained soil
Rate of growth: fast-growing
Flowering period: June to July
Hardiness: fully hardy
Garden Care and how to do it:
Cut back after flowering has finished, keeping the plant compact. Lift and divide large clumps in spring, replanting divided specimens with lots of well-rotted organic matter. If powdery mildew becomes a problem prune out the affected areas.
No 3 - Rosemarinus
Although more commonly used in Mediterranean gardens, Rosemary Loves the climate in Cornwall. The arching varieties create amazing shapes on walls or use the upright species for low hedges. The scent is unmistakable, a favorite with pollinators and an essential for cooking and barbecuing during the warmer months. Flowering in the winter and spring gives it an extra dimension but its evergreen form makes it my number one plant. To ensure a plentiful supply of young, succulent leaves for culinary use, gather the leaves regularly and prune each spring.
No 4 - Erigeron Karvinskianus
Often referred to as the Mexican daisy, we like to call it the Cornish daisy as you will find it seeded in every nook and cranny, seriously you will find it everywhere in the county. Bees and butterflies love all Erigerons, so they make a wonderful addition to any wildlife garden, too.
No 5 - Rosa Rugosa
Such a tough cookie it will literally grow in just about any open environment, even in sand. Ferociously thorny, it has two seasons of blazing glory as it flowers its socks off for most of spring and summer, followed by the plumpest red rose-hips you've ever seen, great in syrups and cordials. The magenta-pink flowers are in my opinion the most striking but they also come in purest white 'Alba' and pretty blush pink 'Fru Dagmar Hastrup'.
No 6 - Anemantheles Lessoniana
My friend's son says the name of this one is like a Harry Potter spell and it is pretty magic. One of my favourite grasses, this evergreen is happy in the sun or shade. AKA Pheasant's tail, this is a wonderful grass that provides year-round colour, movement, and structure. Unlike some plants, its colouring becomes even more intense during the colder months of the year and the overall effect is very pretty. In full sun it bleaches out occasionally but in shade, it keeps its green lushness. Give it room though, it can easily fill a good meter of space.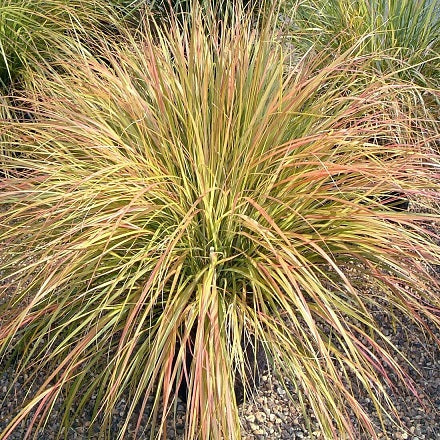 TIP:
Position: full sun or partial shade
Soil: moderately fertile, medium to light, well-drained soil
Rate of growth: fast-growing
Flowering period: June to September
Hardiness: frost hardy (needs winter protection)
Coming towards the close of this blog I have to mention these 3 absolutely essential plants which can be found in most gardens in Cornwall. Ceanothus Repens: otherwise known as Creeping Blue Blossom, this is the tough kid on the block, hardy through most of the UK, dealing with -10c temperatures. It will withstand even the coldest of winters.
Agapanthus Africanus: This perennial is semi-evergreen, originates from South Africa, and thrives in the hots summers and warm winters of Cornwall. They produce large heads of spectacular blue flowers and can be seen throughout Cornwall.
Phormium: This is a pretty common sight in Cornish coastal gardens and often sits as the default plant for any landscape architect or local authority wanting to inject a touch of the 'exotic' into a planting scheme. It comes in a variety of colours, from yellow through red to black, with stripes and in a variety of sizes. With such a diverse range the phormium is my personal favorite and I have to confess I have several in my garden at home.
No 8 - Agapanthus Africanus
No 10 - Stipa Tenuissima - Some times referred to as the Mexican feather grass, wonderful, wispy, pale yellow-green leaves topped with fluffy plumes of silver-green flowers, maturing to blonde-buff. This versatile semi-evergreen grass is ideal for a sunny gravel garden, large container, or new perennial border. It's perfect for introducing movement into a planting scheme since the fluffy flower heads and foliage billow in the slightest breeze.
This is the boss's favorite and is often requested by our clients when we put together planting schemes throughout the year. The image they conjure will normally be something along the lines of a grand Cornish country garden, providing a soft structure that can add drama to any space through movement by even the gentlest of breezes. When visitors come to Cornwall this is often the plant they remember and again is frequently requested by second homeowners. The grass does well in the Cornish climate and compliments other flowering plants.
Thanks again for taking part and reading our #planttalkblog . If you have any feedback we would love to hear from, or if you would like to know about something in particular then drop the team an email.